May 30, 2023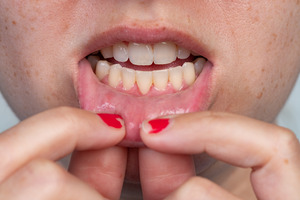 If you've noticed that your teeth have grown more sensitive or appear to be longer, it could mean you're experiencing gum recession. In other words, your gums are pulling away from your teeth, which could ultimately lead to tooth loss in the worst-case scenario. If you want to protect your smile from gum recession, you need to know what can potentially cause the condition in the first place; below are 5 potential explanations from your periodontist.
1. Gum Disease
When plaque and tartar are allowed to accumulate on your teeth and gums, the result is gum disease. During the early stages of gum disease, your gums might be swollen or bleed easily. But as gum disease becomes more severe, it can eventually lead to gum recession.
Once gum disease has reached its advanced stages, brushing and flossing won't be enough to treat it. If you want to stop the condition from growing worse and prevent further gum recession, you should speak to your periodontist so that you can start exploring your treatment options.
2. Brushing Harder Than You Need To
As important as brushing your teeth is, you need to make sure that you're doing it correctly. If you brush too hard, you might end up damaging your gums, causing them to recede. When cleaning your teeth, be sure to move your toothbrush back and forth using very gentle strokes. Be extra careful when brushing near the gumline in order to avoid needlessly injuring your soft tissues.
3. Teeth Grinding
Many people – particularly those who suffer from stress or anxiety – grind their teeth at night. Not only can this wear down tooth enamel, but it also puts a lot of stress on the gums and ultimately lead to recession. While there's not much you can do to stop yourself from grinding your teeth while you're asleep, you can keep your teeth and gums safe by getting a nightguard.
4. Genetics
There are some risk factors for gum recession that you simply don't have much control over. If either of your parents had receding gums, you may be more likely to develop them as well. Being aware of your family's oral health history can give you a better idea of what kinds of oral health issues you need to be particularly wary of.
5. Misaligned Teeth
The alignment of your teeth affects the way the forces of your bite are distributed. If your teeth are crooked, certain parts of your gums might be exposed to an excessive amount of force, and they might start to recede as a result. It may be worth researching possible solutions for misaligned teeth in order to protect your gums.
Even if it's not immediately obvious what the cause of your gum recession is, you should get in touch with your periodontist as soon as possible. They can narrow down the underlying problem and help you explore possible solutions. Get the professional help you need to maintain a healthy smile!
About the Author
Dr. Jonathan Ross completed his periodontal specialty training at the Medical University of South Carolina, and he has been board-certified by the American Board of Periodontology. He offers a number of services for protecting gum health; for example, he can perform scaling and root planing to treat gum disease that might be causing gum recession. To schedule a consultation with Dr. Ross at Ross Periodontics in Mayfield Heights, visit his website or call (440) 461-6008.
Comments Off

on Why Are Your Gums Receding? Here Are 5 Possible Causes 
No Comments
No comments yet.
RSS feed for comments on this post.
Sorry, the comment form is closed at this time.