Robot-Assisted Implant Dentistry – Mayfield Heights, OH
Introducing a New Way to Place Implants
The ideal dental implant is one that has been placed and restored so perfectly that it's virtually impossible to tell the difference between it and a real tooth. To make this a reality, it's essential for periodontists to embrace the latest technology, and Dr. Ross is proud to do just that by introducing the Yomi robotic-assisted guidance system to his periodontal office. Get in touch with Ross Periodontics today to learn more about unique, state-of-the-art robot-assisted implant dentistry in Mayfield Heights, OH.
Why Choose Ross Periodontics for Robot-Assisted Implant Dentistry?
First Practice in Ohio to Utilize Robot-Assisted Implant Dentistry
All Implant-Related Procedures Are Digitally Planned
Experienced, Board-Certified Periodontist
What is Robot-Assisted Implant Dentistry?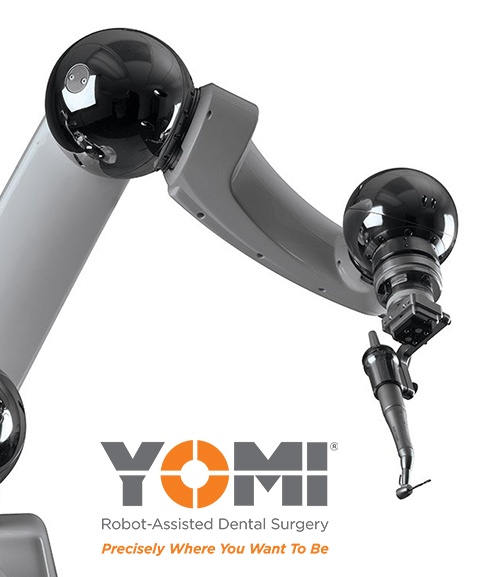 The Yomi system consists of a robotic arm and a real-time visual guidance system. Thanks to the advanced software that the device uses, we can scan your mouth, plan the procedure, and perform the surgery all on the same day. The arm keeps track of your movement so that it can adjust its position to avoid damaging nerves, sinuses, or other anatomical structures. The guidance of the arm makes it easier to be as accurate as possible with implant placement.
Benefits of Robot-Assisted Implant Dentistry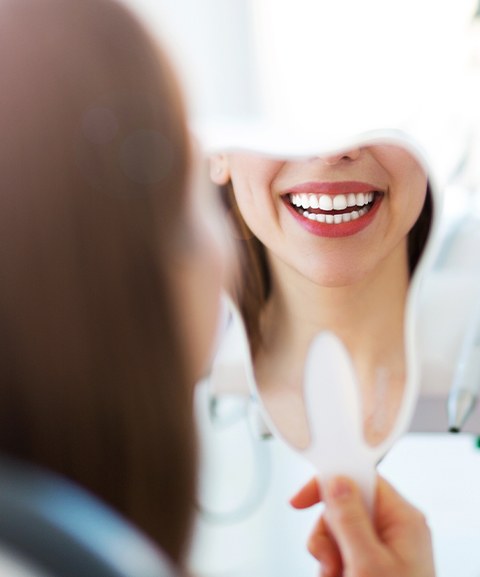 Efficiency: Enhanced planning software makes same-day implant surgery possible in certain cases, meaning you won't have to wait for weeks before receiving your new teeth.
Minimally Invasive: The precision of Yomi makes it possible to make much smaller incisions and avoid the use of sutures.
Accuracy: With Dr. Ross's experience and the help of the robotic-guided system, the risk of complications is kept to a minimum as it is easier than ever to place implants exactly where they need to go.
Robot-Assisted Dental Implant Surgery FAQs
If you are thinking about getting dental implants to replace your lost teeth, you should choose a dental team that utilizes the best technology. Of course, it is understandable if you have questions before you commit to robot-assisted dental implant surgery. That is why we have put together this brief list of FAQs. If you have questions that are not addressed here, you are welcome to reach out to us directly.
Is Robot-Assisted Implant Surgery a New Concept?
Robot-assisted implant surgery is fairly new compared to other techniques for implant placement. However, it is quickly becoming the gold standard for this type of procedure. In fact, over one million patients benefit from it each year! The Yomi robot is the first device approved for this type of surgery in the United States.
Does the Robot Replace My Periodontist During the Surgery?
Absolutely not. Dr. Ross cannot simply prepare the robot and then let it perform the procedure on its own. His extensive training and education are still necessary to ensure the best possible treatment outcome. The robot's purpose is simply to help Dr. Ross ensure that your implants get inserted at exactly the right place.
Does My Insurance Cover Robot-Assisted Surgery?
Some dental insurance plans cover surgery for dental implants in Mayfield Heights, while others do not. You'll have to check the specifics of your policy to see how it applies. Some policies cover half the cost of the surgery, up to the plan's annual maximum. Our team will be happy to help you file your insurance claims and get as much as possible out of your benefits. We will also be happy to help you explore other payment options.
How Much Better Is Robot-Assisted Surgery than Freehand Implant Placement?
The majority of dental professionals still use freehand implant placement, and in most cases, they are quite successful. However, implants that are placed using freehand techniques may be more likely to fail than those that are placed using robotic assistance. This is especially true in cases where multiple implants are placed or where there are other factors in play that contribute to a more complex procedure.
Is Robot-Assisted Implant Surgery Painful?
You can expect to feel little to nothing during the dental surgery in Mayfield Heights. Afterward, swelling and soreness are normal. However, patients who undergo robot-assisted surgery typically experience less postoperative discomfort than patients who undergo freehand surgery. This is because precisely placing the implants makes the surgery as minimally invasive as possible. In some cases, the incisions are so small that sutures are not even necessary.