Cigna Dentist – Mayfield Heights, OH
Getting the Most Out of Your Cigna Dental Insurance
Are you looking for a Cigna dentist in Mayfield Heights who can provide the comprehensive care you need at a rate you can afford? Look no further than Ross Periodontics! Dr. Ross understands quality care can be expensive, and he believes in offering care that is affordable and easy to obtain. With Cigna dental insurance, you can readily move forward with necessary treatments and procedures because of the extensive coverage available. Whether you need tooth extractions, periodontal therapy, or even dental implants, our team will work with you to determine how much your dental insurance company will cover, so your out-of-pocket expenses are minimal. If you have questions about your policy and how to maximize it, contact us today to schedule an appointment.
Cigna Coverage Availability & Fees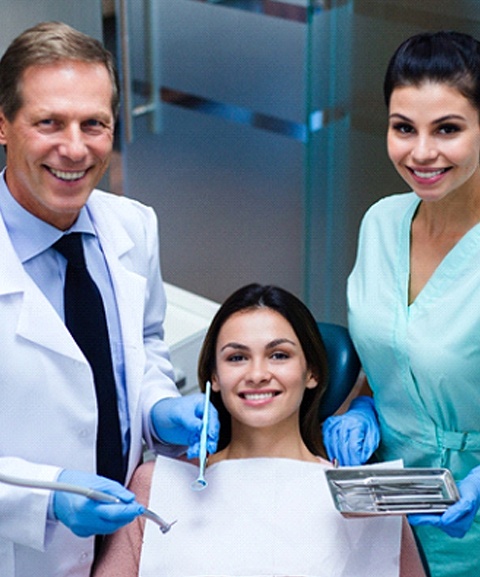 If you require extensive periodontal procedures, you'll want to make sure your dental insurance provider is willing and able to cover a majority of the cost. When applying for your specific policy, you will find there is a high level of coverage (80-100%) for preventive care, which is vitally important to reducing your risk for more serious problems later on. However, should you require minor or major restorative care, there is a good chance your insurer will cover between 50-80% of the total cost. But you'll need to make sure you've met your deductible and determine how much of your annual maximum you've used. If you're unsure, you can simply ask a member of our team to assist in getting you the correct information.
When reviewing your plan, you should also be aware of the benefits you'll obtain when seeing a professional who is in-network with your Cigna dental insurance. Because Dr. Ross is a Cigna dentist, he has negotiated fees and services with your insurance provider, making sure you pay the lowest possible price for treatment each time you visit. But don't worry, you're not obligated to see someone in-network, but you should know you'll likely pay more for treatment.
Meet the Team
When visiting Ross Periodontics, you want to know your service will be exceptional. Fortunately, not only will Dr. Ross provide top-of-the-line care, but our team will make your visit pleasant and stress-free. This includes the financial side of dentistry. Because we know how difficult it can be to navigate the ins and outs of dental insurance in Mayfield Heights, we take the time to review your policy and get you the answers you need. As a Cigna dental policyholder, you understand the value of good coverage, but you may struggle to identify ways you can save. This is where we come in! Our dental team will work to determine how you can get the most out of your policy before your benefits expire. Also, we'll file any necessary paperwork and claims on your behalf to make the process easier for you.