March 8, 2023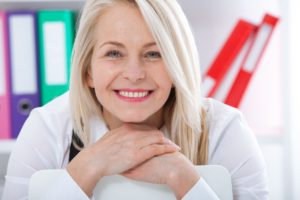 Did you know tooth decay isn't the only threat to your oral health? Gum disease is equally devastating. Although it is preventable, the Centers for Disease Control and Prevention reports that 50% of adults have the infection, which is a leading cause of tooth loss. Although anyone can develop the infection, adults over 60 years of age have a higher risk of periodontal disease. It is attributed to age, but the aging process isn't the cause. Instead, here are 6 factors that increase your risk of gum disease as you approach your Golden Years.
What is Gum Disease?
Gum disease is an infection caused by bacteria found in plaque and tartar buildup from poor oral hygiene habits. Gingivitis is the earliest stage of the infection, which appears as red, swollen, or bleeding gums. Gingivitis is easy to treat and won't cause any long-term damage, but symptoms are often ignored until the infection reaches advanced stages.
With no treatment, gum disease will destroy the supporting structures of your teeth, ultimately leading to tooth loss. Not to mention, bacteria responsible for gum disease can enter your bloodstream, increasing your risk of several health issues, including cardiovascular disease, Alzheimer's disease, and diabetic complications.
Brushing, flossing, and routine dental care are enough to keep the infection at bay. If you're over the age of 60, it's more important than ever to commit to your dental health because various factors increase your risk of gum disease.
Gum Disease Risk Factors for Seniors
Although age is just a number, it can increase your risk of gum disease because 6 factors can lead to the infection, including:
Poor Oral Hygiene: As time passes, it can be difficult to hold a toothbrush or use traditional floss, which can lead to plaque and tartar accumulations. An electric toothbrush and waterflosser can be easier to use to ensure your mouth stays clean.
Medications: Certain medications used to manage age-related conditions can cause dry mouth, creating a perfect environment for bacteria growth. Staying hydrated will keep your mouth moist and reduce harmful bacteria.
Hormonal Dysregulation: Menopause can cause desquamative gingivitis from hormonal imbalances. Improving your oral hygiene routine can help manage changes caused by menopause.
Substance Abuse: Smoking and heavy alcohol use increases your risk of infections and makes them more difficult to treat because they compromise your immune system. Smoking not only raises your risk of gum disease but also oral cancer. Alcohol causes dehydration, which can cause a dry mouth, allowing harmful bacteria to flourish.
Diseases: Systemic disorders and conditions affecting the body's ability to heal and fight infections can increase the risk of oral infections. Your dentist may recommend more frequent cleanings and checkups to keep your mouth healthy.
Poor Nutrition: Vitamin C deficiency can cause your gums to bleed easily and can lead to infections. Eating a balanced diet or taking a supplement can ensure you're getting enough vitamin C.
If you develop any signs of gum disease in between your regular appointments, don't wait to contact your dentist. They'll provide the quick care you need to keep your gums healthy.
About Dr. Jonathan Ross
Dr. Ross achieved his dental degree from the Case Western Reserve University School of Dental Medicine and pursued continuing education in periodontics. He has also completed advanced training in many specialties, like IV sedation. If you have signs of gum disease, request an appointment through our website or call (440) 577-5232.
Comments Off

on What Causes Gum Disease in Older Adults?
No Comments
No comments yet.
RSS feed for comments on this post.
Sorry, the comment form is closed at this time.