April 27, 2022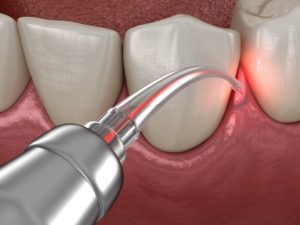 Gum disease is a serious condition that can lead to tooth loss and contribute to a number of systemic health conditions. In many cases, it can be treated with a deep cleaning of the mouth, but sometimes, surgery is necessary. There are essentially two methods for performing such a procedure: with traditional tools, or with a laser. Let's discuss why laser gum surgery is usually the superior option.
What Happens During the Surgery?
The goal of surgery of gum disease is almost always the same: to get rid of an infection in the gums so the remaining portion of the gums can heal and firmly reattach to the roots of the teeth. For decades, this has been accomplished with conventional tools. That is to say, a dentist uses a scalpel to remove diseased tissue, then places stitches to close any wounds left in the mouth.
Now, though, many practices have transitioned to laser-based procedures. For example, some periodontists use the LANAP protocol, which uses a soft tissue laser to kill bacteria in the pockets between the gums and teeth. It does not involve cutting the gums. In other cases, a soft tissue laser is used to cut the gums.
Why Laser Gum Surgery Is Superior
There are several reasons why laser gum surgery is superior to traditional operations:
Precision. Traditional surgery may remove up to 15mm of gum tissue, leaving you looking "long in the tooth" and perhaps require a gum graft down the road. Laser surgery is more precise and less invasive, so it leaves as much healthy tissue as possible intact.
Recovery time. People who have undergone traditional gum surgery often say that it is painful. The recovery time is usually a few weeks long. Laser-based procedures are much easier to bounce back from because the laser cauterizes the tissue as it moves, minimizing bleeding and greatly reducing the risk of infections. The laser even stimulates the body's own healing response. With specialized LANAP surgery, many patients are even able to resume their normal activities within one day.
No foreign growth factors. With the LANAP protocol, your periodontist can encourage your body to regenerate damaged tissues in the mouth, reducing or eliminating the need for foreign growth factors (proteins that stimulate tissue regeneration).
Results. Both traditional and laser gum surgery can produce satisfactory results. However, outcomes tend to be slightly better with laser procedures due to the unique way the lasers interact with the human body.
Will you soon need to undergo gum disease surgery? It would be worth your time to seek out a qualified periodontist who offers laser-based procedures. You will be rewarded with a faster recovery time and easier overall treatment experience.
Meet the Periodontist
Dr. Jonathan Ross is an expert periodontist in Mayfield Heights, OH. He is always pursuing advanced education in his field, and he is well-trained in the use of lasers, including the unique LANAP gum disease treatment. If you are struggling with your gum health, he would be pleased to consult with you. Contact our office at 440-461-6008.
Comments Off

on Traditional vs. Laser Gum Surgery — Which Is Better?
No Comments
No comments yet.
RSS feed for comments on this post.
Sorry, the comment form is closed at this time.