October 2, 2021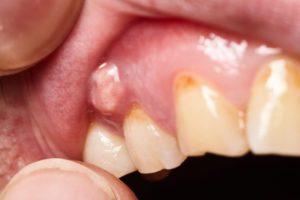 According to a survey commissioned by the American Academy of Cosmetic Dentistry, 45% of participants agreed a smile is a person's most attractive feature, no matter their age. Does your smile light up the room? If you have overgrown gums, the answer is probably "no". However, the impact of a gummy smile goes beyond just aesthetics. Excessive gum tissue also puts you at a higher risk of oral health issues, like gum inflammation. Keep reading to learn more about the consequences of a gummy smile in Mayfield Heights and what you can do about it.
What Causes Gum Overgrowth?
Gum overgrowth, also known as gingival hyperplasia, can range from one small bump to gums that almost completely cover a tooth or multiple teeth. The causes of gingival hyperplasia can be grouped into four main categories:
Gum Inflammation – Inflamed gum tissue is often caused by plaque buildup on teeth from food, bacteria, and poor hygiene practices, and is often an early sign of gum disease.
Medications – Certain prescription drugs can cause gum overgrowth as a side-effect, including medication to prevent seizures and manage heart conditions.
Genetics – Hereditary gingival fibromatosis is a rare genetic condition that causes gum overgrowth.
Systemic Health Conditions – Leukemia, pregnancy and other hormonal fluctuations, as well as diseases and conditions like HIV, diabetes, anemia, and Crohn's disease may also cause gum overgrowth.  
The Negative Impact of a Gummy Smile
Overgrown gums can trap bacteria and other irritants beneath the gum line, which can cause swelling and irritation. Plaque and bacteria accumulation around the gum tissue can easily lead to gingivitis, the first stage of periodontal disease. If left untreated, periodontal disease can eventually destroy the bone that supports your teeth. It has also been linked to a wide range of serious diseases and conditions, such as kidney disease, Alzheimer's, cardiovascular disease, diabetes, and more.
How to Treat Overgrown Gums
The best way to treat your gummy smile will vary depending on the root cause of your gum overgrowth. Depending on your unique circumstance, your dentist may recommend gum recontouring with a soft tissue laser. This procedure involves gently trimming away excess gum tissue with a specially calibrated laser to reveal more of the teeth underneath.
Benefits of gummy smile correction through laser therapy include:
Minimally invasive, comfortable procedure
Lasers allow for greater precision and less bleeding and inflammation
Fast procedure that does not always require local anesthesia
Permanent, natural-looking results
Insurance may help cover the cost
If you're tired of living with a gummy smile, don't wait to talk to a periodontist. Treating your overgrown gums will boost both your oral health and your appearance!
About the Author
An active member of the American Academy of Periodontology, Dr. Jonathan Ross believes a healthy smile begins with healthy gums. He has completed periodontal specialty training at the Medical University of South Carolina and is a board-certified periodontist. To learn more about the consequences of a gummy smile in Mayfield Heights, visit the Ross Periodontics website or call 440-461-6008.
Comments Off

on The Surprising Consequences of Overgrown Gums
No Comments
No comments yet.
RSS feed for comments on this post.
Sorry, the comment form is closed at this time.