March 31, 2021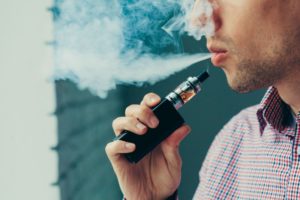 If you've been dealing with a lot of stress or anxiety lately (and who hasn't in the age of Covid-19?), you may have considered vaping CBD oil as a means to achieve peace of mind. After all, numerous studies have indicated that CBD oil has multiple health benefits. However, you may have also heard that vaping in Mayfield Heights isn't great for your dental health. In fact, research suggests that vaping might even cause gum disease. Keep reading to learn more about this connection and what you can do to keep your smile healthy.
What Exactly Is CBD?
Cannabidiol (CBD) is a compound in the cannabis sativa plant (a type of marijuana) that promotes relaxation. However, it does not contain THC, the compound in cannabis that is responsible for getting people "high." Instead, CBD produces a calm feeling that can help with various mental health problems, including anxiety, depression, and insomnia. It may even alleviate chronic pain.
That said, vaping may lead to certain dental health issues that you should be aware of.
Can Vaping Cause Gum Disease?
Vaping poses fewer health risks than smoking, but it may still harm your teeth and gums. While vaping is a recent enough phenomenon that no one knows its long-term effects, it may contribute to the following oral health problems:
Excess bacteria – One 2018 study found that vaping may increase the number of bacteria in the mouth.
Dry mouth – Vaping can dry out the saliva in your mouth. Saliva rinses bacteria off of your teeth and gums. Without it, you're at a higher risk of gum disease and cavities.
Inflammation and irritation – Vaping may irritate and inflame your gums and other soft tissues in the mouth and throat.
With this in mind, you can still reap the health benefits of CBD without putting your dental health at risk.
Tips for Keeping Your Smile Healthy
One way to minimize the risk of gum disease is to switch from vaping CBD oil to eating CBD-infused gummies or other foods. This solution is generally healthier for your lungs as well as your mouth.
If that's not feasible and you must continue vaping, here are some tips for keeping gum disease at bay:
Drink water after you vape. This can prevent not only dry mouth, but also bad breath.
Brush and floss daily. If you can't clean your teeth after vaping, then at least brush twice per day and floss once per day to minimize the risk of bacteria and plaque building up.
Visit your dentist. See your dentist every six months for a checkup and cleaning. Also, call them if you notice any possible signs of gum disease, like tender or bleeding gums.
Vaping CBD oil may contribute to gum disease, but if you keep the above tips in mind, you can enjoy its mental health benefits without compromising your oral health.
About the Author
As a Board-Certified periodontist in Mayfield Heights, OH, Dr. Jonathan Ross helps patients maintain healthy gums. He takes 50+ hours of continuing education courses each year to stay up to date on the latest advancements in the dental field. To learn more about preventing gum disease, you can contact Ross Periodontics through their website or by calling (440) 461-6008.
Comments Off

on Can Vaping CBD Oil Cause Gum Disease?
No Comments
No comments yet.
RSS feed for comments on this post.
Sorry, the comment form is closed at this time.