November 3, 2020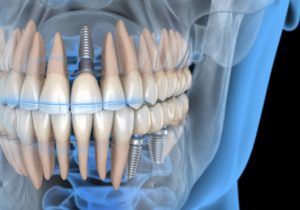 There are countless dentists across the United States who offer dental implant treatment. Some of them are general dentists, while others are prosthodontists or oral surgeons. The vast majority of them are committed to producing desirable outcomes for their patients. Many of them even regularly pursue continuing education to that effect. However, instead of choosing any of those types of dentists to help you rebuild your smile with dental implants in Mayfield Heights, consider partnering with a periodontist. Let's talk about what periodontists do and why they are uniquely qualified to perform dental implant procedures.
What Is a Periodontist?
Periodontology is one of 12 dental specialties National Commission on Recognition of Dental Specialties and Certifying Boards. After they finish dental school, an aspiring periodontist must complete a residency that can last for three years or longer. During the residency, they dive into the details of how to treat and prevent various forms of gum disease. They also gain an intimate understanding of how the gum tissue and the underlying bone work.
After they complete their residency, a periodontist in Mayfield Heights may pursue board certification. Contrary to a popular misunderstanding, board-certification is not required in order for a periodontist to practice. A board-certified periodontist has demonstrated a true mastery of all aspects of their profession and is dedicated to providing only the best care to patients.
Periodontists and Dental Implants
A dental implant is a small, screw-like device made out of a titanium alloy that acts as a substitute tooth root. It gets inserted into the jawbone during a minimally invasive surgery. Later, after the bone heals around the implant, it is able to support prosthetic teeth.
Both the jawbone and the overlaying gum tissue are critical components of a successful dental implant procedure. Since these are the types of tissue that a periodontist specializes in, it makes sense to partner with a periodontist for your treatment.
Conquering Gum Disease
According to some estimates, about half of the adults in the U.S. suffer from some form of gum disease, which is otherwise known as periodontal disease. Gum disease in Mayfield Heights can greatly increase the risk of dental implant failure, so it must be treated prior to the dental implant surgery.
Since a periodontist is an expert on both reversing and preventing gum problems, they can provide invaluable services even well before you undergo your dental implant surgery. This is true whether your gum disease is relatively mild or it has caused significant damage to your gums and jawbone.
Are you thinking about getting dental implants to rebuild your smile? Choosing a periodontist to perform your procedure can help to ensure that you enjoy the best possible treatment outcome!
Meet the Periodontist
Dr. Jonathan Ross is a board-certified periodontist in Mayfield Heights. He combines his extensive training and expertise with advanced technology to perform dental implant procedures. If you would like to speak with him about the possibility of getting dental implants, or you have concerns about gum disease, contact our office at 440-461-6008.
Comments Off

on Should I Have a Periodontist Perform My Dental Implant Procedure?
No Comments
No comments yet.
RSS feed for comments on this post.
Sorry, the comment form is closed at this time.