September 4, 2020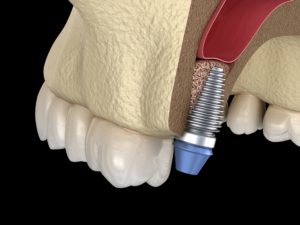 If you've lost a tooth or two over the years, you can enjoy a nearly perfect replica of your natural smile using dental implants. As the only treatment to mimic the entire tooth structure, you'll advantage from a variety of benefits not possible using any other solution. A dental implant is the most reliable option for tooth loss because it's proven to last for decades with the right support. As a result, if you've lost density in your jaw, you might need a bone graft in Mayfield Heights to give your new smile the sturdy foundation it needs to thrive.
How Does a Dental Implant Work?
A dental implant is unique because it rebuilds the tooth from the root up. A titanium implant post is surgically placed into the jaw to serve as a root. This stimulates your bone to encourage new growth. Your jaw will fuse to the post through a process called osseointegration. After your jawbone has healed, an abutment is placed on the post, and a crown is attached to it. Your jaw will hold your replacement tooth firmly in place, so it closely functions like your natural smile.
Why Do I Need a Bone Graft?
Not all patients interested in dental implants will require bone grafting before their placement surgery. During your consultation, your dentist will review a CT scan of your jaw to ensure you have enough bone to support your dental implants. If you've lost bone from untreated tooth loss, infection, or another issue, you will need the additional procedure before moving forward.
What is a Bone Graft?
A bone graft is a surgical procedure that enhances the thickness of your jaw in areas that have lost density. Bone is taken from another area or a donor and grafted to the treatment site. In some instances, it can be combined with other procedures, like a sinus lift. This can also be needed before dental implant placement to ensure there's enough space for the post and maxillary sinus when placed in the upper arch.
Is a Bone Graft Necessary?
If you have low bone density, you will need the extra procedure to prevent your new smile from failing. You must have at least ¼ inch of bone to stabilize a dental implant. Although it adds another step in your treatment plan, it's time well-spent to ensure your jaw can support your dental implants for many years.
If you've lost all your teeth in one or both arches, you might be able to skip a bone graft with All-On-4. The implant posts are placed into the thickest parts of your jaw to support your denture, often eliminating the need for bone grafting. Your implant dentist will evaluate your jawbone to create a personalized plan to restore your smile.
About Dr. Jonathan Ross
Dr. Ross provides general dentistry and periodontics. He combines the latest technologies and techniques to treat complex oral health issues, like tooth loss. He can replace your missing teeth with dental implants. Contact our office today to schedule your consultation for a complete smile.
Comments Off

on Do I Need a Bone Graft for Dental Implants?
No Comments
No comments yet.
RSS feed for comments on this post.
Sorry, the comment form is closed at this time.