September 8, 2023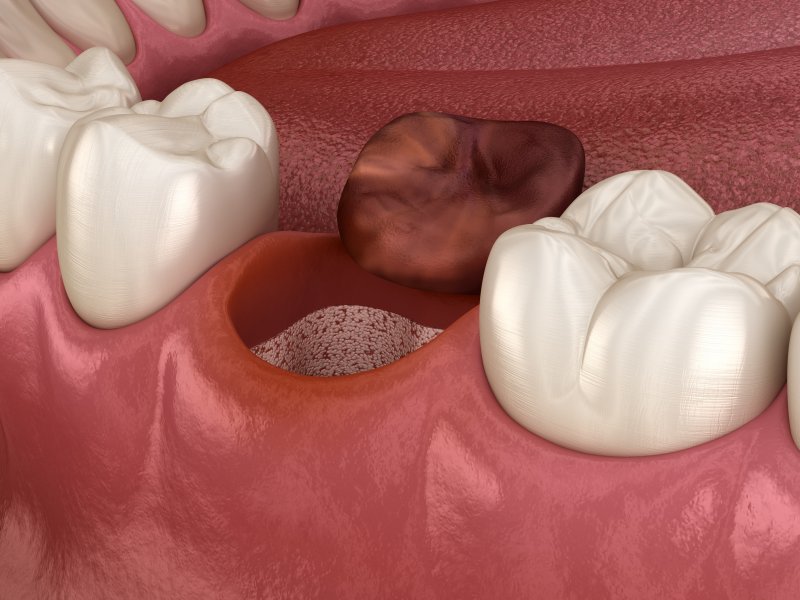 So, you've just had a tooth extracted, and while you're relieved to no longer be in pain, you're now worried about another possible dental disturbance: dry socket. The name itself is frightening if you don't know what it is, but when you learn the specifics of the condition, it can be even more concerning.
What is dry socket, how does it happen, and what can you do about it? Continue reading to have all of your questions answered.
What is Dry Socket?
After a tooth extraction, a "socket" is left behind in the area where the tooth was extracted. Your dentist will usually pack this area with gauze to help it clot, but it needs time to heal on its own.
Normally, a blood clot forms in the socket to protect the exposed bone and nerves. However, when this blood clot dissolves or becomes dislodged, a condition called dry socket can occur.
Dry socket leaves the bone and nerves exposed, causing intense pain and discomfort. In addition to the pain, dry socket can lead to other complications like infection if not treated quickly.
How Common is Dry Socket?
The good news is that dry socket is relatively rare. Only around 2-5 percent of all patients who have tooth extractions ever experience it. While it's not a common condition, it's important to know the risk factors that might increase your chances of developing dry socket.
How Long Does It Take the Gums to Heal?
The process of healing after tooth extraction is critical in preventing dry socket. You don't want to do anything that would cause the clot to break or dislodge. This can include:
Creating suction in your mouth (typically by using straws).
Rinsing aggressively.
Brushing the affected area.
Avoid these practices while you're recovering for seven to ten days and you should be fine. Healing times vary, so be sure to check your socket before attempting to do any of the things listed above.
What Do I Do if I Form Dry Socket?
If you suspect that you've developed dry socket, take immediate action and call your dentist. They will often pack the area with a special healing paste to help you recover. You may also be prescribed antibiotics and a medicated mouth rinse.
Dry socket can be a painful and inconvenient complication after a tooth extraction, but with the right knowledge and care, you can minimize your risk and be prepared if it occurs. Understanding what dry socket is, its risk factors, and how to manage it can make all the difference.
About the Practice
Dr. Jonathan Ross believes that progress can only be achieved through knowledge. That's why after graduating from the Case Western Reserve University School of Dental Medicine, Dr. Ross immediately began specialty training in periodontics and obtained his board certification from the American Board of Periodontology. To schedule an appointment at Ross Periodontics, call (440) 461-6008 or visit the website to explore their services.
Comments Off

on What Is Dry Socket and How Does It Happen?
No Comments
No comments yet.
RSS feed for comments on this post.
Sorry, the comment form is closed at this time.