September 3, 2022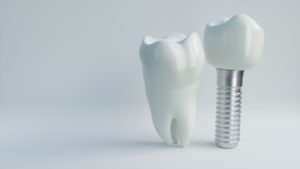 Dental implants are considered the gold standard for replacing missing teeth, as they're able to impressively replicate lost teeth in terms of look, feel, and functionality. But if you're interested in restoring your smile with dental implants, you might have a few questions—including whether or not the treatment is covered by your dental insurance. Keep reading to learn more about dental implants and whether or not they're typically covered by most insurance plans.
Will My Insurance Plan Help Cover the Cost of Dental Implants?
It's important to note that insurance plans and their finely printed details vary, and different patients are eligible for different levels of coverage. Certain insurance policies actually do reimburse portions of the dental implant procedure, but it's rare and usually very minimal. Unfortunately, most dental insurance policies do not cover dental implants because most companies categorize them as a "cosmetic procedure" despite their obvious restorative purposes.
That said, there are a few cases where insurance will cover implants for people who are missing all of their teeth as a result of medical complications:
Tooth loss due to trauma (such as a car accident).
Loss of teeth due to a medical condition.
If teeth are lost during the course of tumor treatment.
A congenitally missing tooth.
But in reality, most insurance plans are only designed to cover routine maintenance and preventive care, basic care, and emergencies. Although, many insurance companies will still reimburse you for the same amount they would cover lower-cost options like partials and dentures. However, these insurance companies are prioritizing their profit margins instead of your long-term health; even if coverage is lacking compared to other options, dental implants are still the best option for replacing lost teeth.
6 Awesome Benefits of Dental Implants
If you're uncertain about whether dental implants are worth their cost—especially if your insurance plan isn't doing you many favors—here are six priceless benefits of receiving them:
Longevity – With proper care, dental implants can last for virtually a lifetime (20 to 30+ years).
Durability – The implants are made of strong, biocompatible materials that ensure a stable, lasting solution.
Versatility – Dental implants can replace one missing tooth or all of your missing teeth!
Natural-looking – The implants are custom-made for your smile, meaning they'll look and feel incredibly lifelike.
Easy-to-maintain – You don't need any special tools or equipment; consistent oral hygiene will keep your implants clean and resplendent.
Jawbone preservation – Since the implants fuse with your jawbone, they provide healthy stimulation to your jaw and prevent bone loss.
If you have any questions about dental implants or whether your insurance will cover them, don't hesitate to speak with your dentist about your options.
About the Author
Dr. Jonathan Ross received his dental doctorate from the Case Western Reserve University School of Dental Medicine and is a proud member of several professional organizations including the American Dental Association and the Ohio Dental Association. His practice is pleased to offer a wide range of services including dental implants. If you have any questions about dental implants or how to maximize your insurance plan, you can contact the practice online or over the phone for assistance: (440) 461-6008.
Comments Off

on Are Dental Implants Typically Covered by Dental Insurance?
No Comments
No comments yet.
RSS feed for comments on this post.
Sorry, the comment form is closed at this time.