June 17, 2022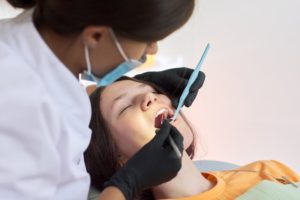 Do you get nervous or afraid when you think about dental appointments? Do you feel emotionally or physically uncomfortable when sitting in the examination chair? You're far from alone! Fortunately, you don't have to put your oral health at risk even if you feel this way. There's a way for you to sit back and relax while your dentist takes care of your smile thanks to sedation dentistry in Mayfield Heights! Nitrous oxide sedation, oral conscious sedation, and IV sedation are all safe and reliable options that have helped countless people feel at-ease while taking care of their oral health. But what does it feel like to be sedated at the dentist's office? Read on to find out!
Does Dental Sedation Put You To Sleep?
When patients are faced with a particularly nerve-wracking procedure, many ask if they can be "put to sleep" or "knocked-out". Being fully unconscious may sound like the simplest option at first, but what many patients don't realize is the level of risk that comes with being fully put under. That's why general anesthesia, the service used to "knock out" patients, is only used for procedures like major surgery.
Dental sedation gives you all the benefits you're looking for from general anesthesia in a much gentler and safer form. In fact, patients often feel as if they had fallen asleep during their treatment with the help of oral conscious sedation or IV dental sedation!
Being Sedated At the Dentist's Office
Generally, there are three different types of dental sedation, each one feeling slightly different than the last:
Nitrous oxide dental sedation: This is the lightest form of dental sedation, and it's inhaled through a small nose mask. Nitrous oxide provides a light and airy feeling. Sometimes patients feel so content that they find ordinary things funny, which is where it earned the name laughing gas! As soon as the mask is removed, it only takes a few minutes to return to regular alertness.
Oral conscious dental sedation: The next level of sedation is administered via a prescribed medication that's taken before the appointment begins. Gradually, the patient will begin to feel relaxed and somewhat sleepy, and their limbs may begin to feel heavy. Some patients drift off to sleep with oral conscious sedation, but a gentle shake will be able to wake them up easily.
IV dental sedation: This is the most powerful form of sedation dentistry. Within minutes of the sedative entering the blood stream, patients will feel sleepy. Time may pass very quickly, and they'll feel as if they're in a dreamlike state. After the appointment, it will take several hours for the sedative to wear off, and the patient is unlikely to remember anything about their visit.
Do you have more questions about what sedation dentistry feels like? Are you ready to discover if dental sedation is right for you? Then give your dentist a call today to schedule a consultation!
About the Practice
Dr. Jonathan Ross of Ross Periodontics & Dental Implants is dedicated to the smiles of Mayfield Heights and the surrounding communities. To ensure he can provide the best possible care, he regularly completes continuing education in advanced subjects and the latest techniques. After obtaining his board certification as a periodontist, he completed additional training focused on IV conscious dental sedation. To see if sedation dentistry is right for you, he can be contacted online or at (440) 461-6008.
Comments Off

on What Does It Feel Like to Be Sedated At the Dentist's Office?
No Comments
No comments yet.
RSS feed for comments on this post.
Sorry, the comment form is closed at this time.