Dental Implant Aftercare – Mayfield Heights, OH
Protect Your New Smile
One of the best things about dental implants in Mayfield Heights is their longevity. They have the potential to serve you well for decades — perhaps even for a lifetime. They are an outstanding value, and many dental professionals acknowledge them as the next best thing to natural teeth. However, in order for your new smile to live up to its potential, you must care well for it. On this page, we discuss three keys to successful dental implant care in Mayfield Heights.
Make Oral Hygiene a Priority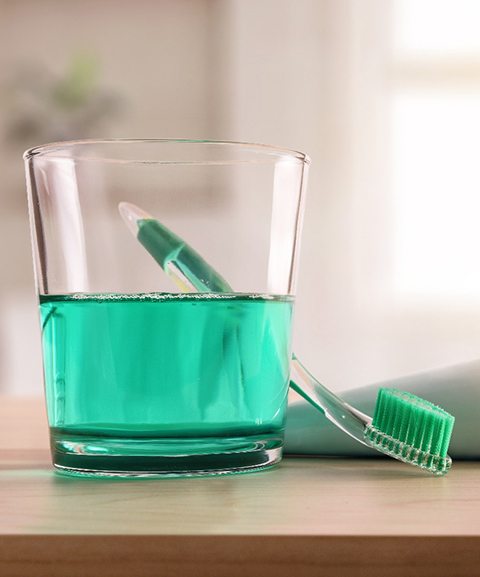 One of the most common causes of dental implant failure is an infection known as peri-implantitis, wherein bacteria attack the tissue surrounding an implant. Excellent oral hygiene is essential for preventing peri-implantitis. Here are some tips that will help you maintain a clean, infection-free mouth:
Thoroughly brush all of your teeth, including your implant-supported ones, twice a day. Be sure to clean the area around the gumline.
Rinse with an antibacterial mouthwash.
Floss at least once a day. If you have an implant-supported bridge, a floss threader or water flosser can help you clean the space beneath your artificial teeth.
Limit your intake of sugary and starchy foods. Bacteria love to feed on simple carbohydrates and multiply accordingly.
Drink plenty of water to rinse away food particles that might be lingering in your mouth
Do not use tobacco, which can contribute to dry mouth and a heightened risk of infection.
Protect Your Dental Implants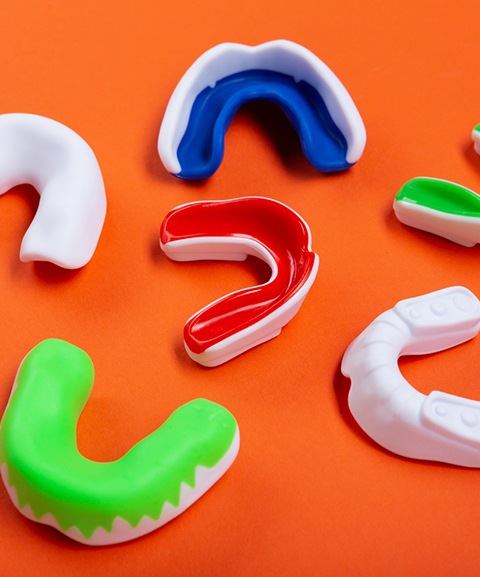 Protecting your dental implants from physical trauma is also important. If you play any type of contact sport — or even a non-contact sport — consider investing in a custom mouthguard. Not only will the mouthguard reduce the risk of physical damage to your implants and their restorations, but it could even lower your risk of concussion.
Also, be alert for signs of bruxism (teeth grinding and clenching). Bruxing places a lot of pressure on your teeth and implants and may cause them to break or suffer other types of damage. If you grind your teeth at night, ask your implant dentist in Mayfield Heights about getting a custom nightguard that will protect your smile while you sleep.
A third step you can take to prevent trauma to your implants is being careful about what you put in your mouth. Chewing on ice, pen caps, or other hard objects may damage your new teeth.
Schedule Regular Cleanings and Checkups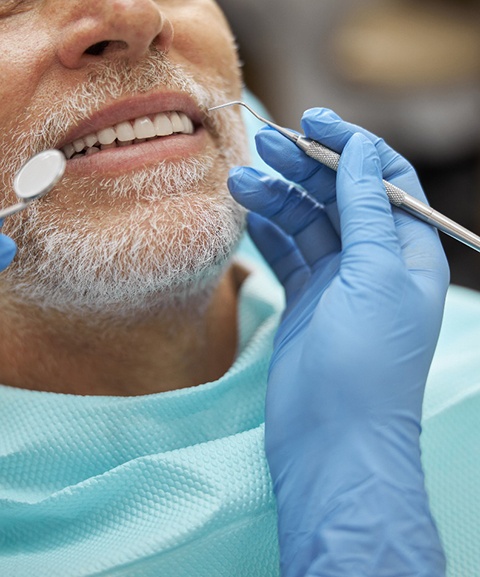 Even if you replace all of your teeth with dental implants, visiting your dentist for regular cleanings and checkups remains as important as ever. Not only will your dentist check your mouth for signs of gum disease, peri-implantitis, and other problems, but they will also inspect your dental implants and their restorations. They will even remove your restorations to clean and examine your implant abutments. If there are any signs of developing problems, it may be possible to nip such issues in the bud — before they pose a serious threat to your smile.
Would you like to learn more about dental implants and how to care for them? Dr. Ross and our team are here to help!